100% ICE – 100% SIDEWAYS

– 

200% FUN 

SENSATIONS
Since 1995 the ALPES LOISIRS PLUS company have been running the ice karting in SERRE CHEVALIER.
The « Karting de Serre Chevalier » is the first ice race track in the HAUTES ALPES (05).
In an exceptional setting in the heart of the ski resort of SERRE CHEVALIER, come and discover the joys of driving a go-kart on a race track of ice, 500 meters in length.
The go-karts are specially prepared and equipped with studded ice tyres judiciously distributed between the front and the back to make the steering of the kart easier and more enjoyable.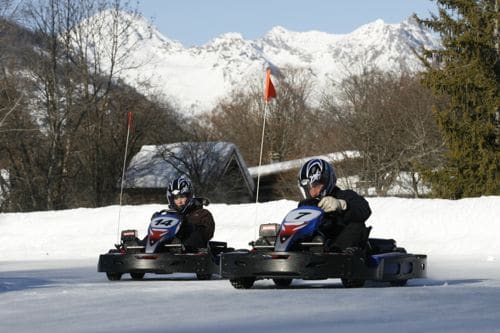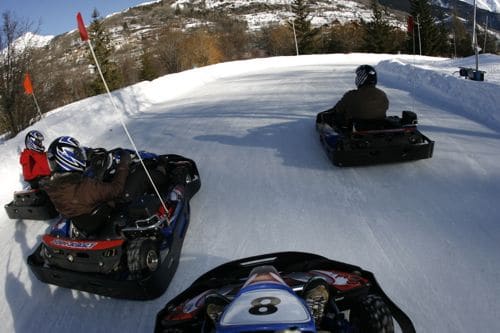 With family or friends at the steering wheel of a go-kart you'll enjoy driving around our circuit and comparing your times. On the track, trajectory, slides, skids, trail braking are the hallmarks of this mechanical sport.
You will be surprised by the easy and speed at which you'll learn to drive a go-kart on ice. Very quickly you'll go from a normal driver to a racing driver which will safely lead you to a maximum of fun. Ice karting, a very enjoyable sport, is for both beginners or experienced drivers.
After a few laps, you'll quickly be dreaming that you're driving a racing car at the Monte Carlo or Swedish rally or at the Trophée Andros race.
Alpes Loisirs Plus
Karting de Serre Chevalier
Circuit de kart sur glace de Serre Chevalier
05330 Saint Chaffrey